If you're a homeowner in California, you should be aware of a new law protecting you, your family and your property from the dangers of Carbon monoxide (CO) poisoning.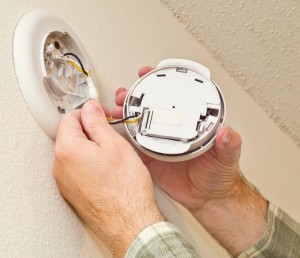 A poisonous gas that is odorless and colorless, Carbon monoxide is produced whenever fuels such as gas, oil, kerosene, wood or charcoal are burned. Idling vehicles, heaters, fireplaces, furnaces and fuel-burning appliances – all can produce CO in your home.
When used and maintained properly, fuel-burning appliances produce a non-hazardous amount of Carbon monoxide. It's when these appliances are malfunctioning or used incorrectly that they can turn deadly. Each year, hundreds of people die from accidental CO poisoning, even more from CO produced by a car or truck idling in the garage. For more info on CO and the symptoms of CO poisoning, click here.
With the passage of the Carbon Monoxide Poisoning Prevention Act of 2010, all residential properties with an attached garage or fuel-burning appliances must be equipped with a California State Fire Marshal-approved Carbon monoxide alarm or detector.
What's the difference between a CO alarm and a CO detector? A carbon monoxide alarm is a stand-alone unit which has its own built-in power supply and audible device. A carbon monoxide detector is designed to be used along with your fire alarm system, drawing its power from the alarm panel. For a list of approved CO devices, click here.    
If you wish to learn more about protecting your home from CO, feel free to contact us. You can also click here to read FAQs provided by CAL Fire and the office of the state fire marshal.
Denalect customers can save money by coordinating their annual alarm inspection with a CO detection assessment.
Note: CO alarms aren't intended or suitable for fire and smoke detection. If your CO detector is battery-operated, it should be tested regularly (once a month is best) and have the battery replaced once a year. If installing a CO detector yourself and unsure where to place it, consult the manufacturer's recommendations in the installation guide.
Denalect Alarm proudly serves the home security and business alarm system needs of Contra Costa County in Northern California: Anitoch, Blackhawk, Concord, Danville, Dublin, El Cerrito, Hercules, Lafayette, Livermore, Martinez, Moraga, Oakley, Orinda, Pittsburg, Pleasant Hill, Pleasanton, San Ramon and Walnut Creek.