Radionics 2212 LCD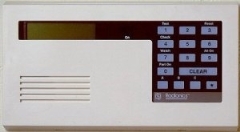 To Turn ON The Alarm
1. Close all doors & windows. If secure, keypad displays "SYSTEM READY". If not see "Bypassing A Zone" (below).
2. If Leaving House, Press 9
If staying Home, Press 0
3. Enter your Code. Bypass any zone here.
4. You have 40 seconds to exit.
Bypassing A Zone When Arming
If, when arming the system, a zone is open you can bypass that zone by pressing asterisk (*) followed by the zone number button on the keypad followed by another asterisk (*).
Turning OFF The Alarm
If the system is on when you enter, the buzzer on the keypad will sound.
1. Enter Code.
The ON lamp will go out
Power Failure Or System Trouble
An on-off warble tone will sound, and the display will show Press 4 to View.
1. Press 4.
2. The display will tell you what the
trouble or problem is.
3. Press CLEAR to silence.
4. Call Denalect Alarm, but wait 15 minutes if it is an AC power failure.
Fire Alarm Reset
1. Enter your Code to silence the bell.
2. Check each smoke detector to see which has a lamp on, and also check the heat sensors.
3. Press 3.
4. Enter your Code to reset the system.
The reset will take 20 seconds.
If the BELL is Ringing
1. Enter your Code.
2. Wait 30 seconds, then call Denalect Alarm at 925-935-2680.
Programming User Codes
1. Press the 6 button.
2. Enter the master code.
3. Press 0.
4. Enter the user number of the code you want to program. 1–6 (8 for the duress code)
5. Enter the new Code.
6. Enter the code again.
7. Press CLEAR twice.
8. Test the new code.
Original text created:  Fri, 05/16/2008 – 10:26 — denalect_admin