Radionics 4112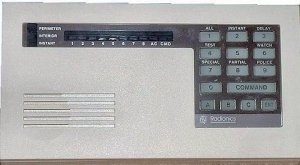 To Turn ON The Alarm
1. Close all doors & windows. All zone lamps will be out.
2. If leaving house, press Command 1. If staying home, press Command 3
If any zone lamps are lit, see bypassing a zone (below).
3. You have 40 seconds to exit.
Turning OFF The Alarm
If the system is on when you enter, the buzzer on the keypad will sound.
1. Enter Code.
2. Press Enter button.
The perimeter & interior or instant lamp will go out.
Bypassing A Zone When Arming
If, when arming the system, a zone lit lamp means something is open, you can bypass that zone.
1. Press Command 8.
This will arm your system and any open zones, plus the interior zone will be bypassed.
Power Failure Or System Trouble
An on-off warble tone will sound.
1. Press Command 4.
2. The lit AC lamp means: System normal.
3. Blinking AC lamp means: Your system is operating from backup battery only.
4. Call Denalect Alarm, but wait 15 minutes if it is an AC power failure.
If the BELL is Ringing
1. Enter your Code.
2. Press the Enter Button
3. Wait 30 seconds, then call Denalect Alarm at 925-935-2680.
Fire Alarm Reset
1. Enter your Code
2. Press the Enter Button to silence bell.
3. Check each smoke detector to see which has a lamp on.
4. Press Command 47.
The reset will take 20 seconds.
Programming User Codes
1. Enter Command 5.
2. Enter Code that you would like to change.
3. Enter new code keeping the same FIRST digit as the old code.
4. Enter new code again.
Original text created: Fri, 05/16/2008 – 10:27 — denalect_admin