If you're considering a home video surveillance system, you're not alone. More and more Bay Area homeowners are enhancing their current security systems by installing video surveillance inside and/or outside their homes. From evaluating your needs to selecting features, here are some tips on how to decide if a video surveillance is right for you.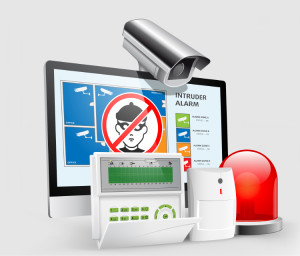 Like security systems, video surveillance systems also offer a variety of features. At its most basic, however, it's comprised of three main components:
Cameras – The number of cameras in the system, as well as their style and features, will depend upon your lifestyle needs and budget. Most cameras are either dome or bullet-shaped. Optional features include high or low definition, adjustable or wide angle lens, and built-in infrared illuminator.
Recorder – The brains of the operation, the recorder is essentially a computer and a hard drive that records what the cameras see. Standard recorders usually store one week's worth of footage. Newer systems usually have applications for smart phones.
Monitor – This is how you or your security provider views the recorder's footage. Depending on your system set up, footage can be viewed locally on your home computer and/or off site from a remote location.
Then decide if you need an outdoor or an indoor system. Outdoor surveillance, meant to deter or identify and prosecute home intruders, can either be very discrete or extremely obvious. Cameras are placed strategically, allowing you to monitor one specific area, like the front door, or watch the whole property. Outdoor cameras are usually waterproof and built to withstand the elements.
Indoor systems can work well for a homeowner who travel a lot or owns a vacation or rental home. That way, he or she can keep an eye on housesitters, renters, construction workers and anyone else that might be in the home when they aren't around. Indoor cameras can monitor multiple rooms or just one area and generally produce a higher quality image.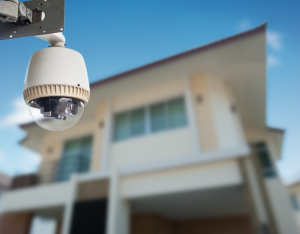 And, depending on your needs and budget, home surveillance systems also offer a variety of features. The following are some additional terms and options you may encounter:
Wired versus wireless – A system that's connected to your wireless internet can offer more flexibility and the cameras are generally more discrete. However, interruptions to your internet service can affect the signal. Wired cameras may take more work to install but can offer higher quality picture and more reliable service.
Color and resolution – While color cameras can be useful for a business or commercial property, the average homeowner doesn't need that feature in a home surveillance system. A good quality, black and white camera image can identify an intruder or thief. For outdoor systems, you may want to look for a camera that offers an infrared illuminator for low light situations such as nighttime.
Coverage – The amount of area a camera lens can cover varies greatly. Some cameras only shoot directly in front of the lens. Wide-angle lenses cover a larger space, while pan-tilt-zoom cameras can view up to 360 degrees. For outdoor cameras, choose an automatic iris, which automatically adjusts to different levels of light.
For more information on our video surveillance systems or to get a free estimate, give us a call at (925) 932-2211 or (800) 273-2680.
Denalect Alarm is proud to serve home alarm and business security and alarm systems in Northern California: Antioch, Blackhawk, Concord, Danville, Dublin, El Cerrito, Hercules, Lafayette, Livermore, Martinez, Moraga, Oakley, Orinda, Pittsburg, Pleasant Hill, Pleasanton, San Ramon and Walnut Creek.