Discovering your house, condo or apartment has been broken is a shock. After all, this is your home, your sanctuary. But by knowing what to do ahead of time, you can act quickly, increasing the chances of catching the burglar and recovering your property.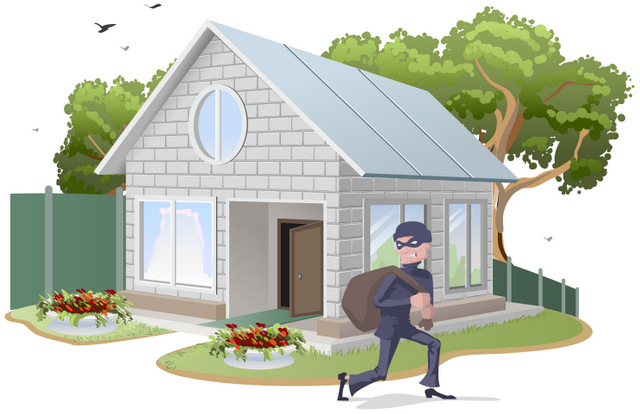 First, if you see signs that your home has been burglarized, don't go in. Call the police and wait for them to arrive. If you accidentally surprise a burglar, don't antagonize or stall them. Most just want to grab some valuables and leave.
If you do catch a glimpse of the intruder, write down as many details (age, sex, race, which direction they went, etc.) as you can remember as soon as possible. This will help the police when they arrive.
Be sure to file a police report. While chances are slim that you'll recover any of your possessions, a police report is necessary to file an insurance claim so you can recoup your losses. Be sure to ask for the report number before the officer leaves your home. Plus, reporting a break-in provides the authorities with valuable information about crime trends in your area.
Take photos, including where valuables were stolen from and the entrance or entrances the burglar used. This will help when filing an insurance claim to prove what items were taken and which areas of your home were damaged. It also helps to have images of items before they're stolen.
Call your insurance company and file a claim. Do this as soon as you have your police report. You'll need to provide a report number and lots of other details such as point of entry, property damage, items stolen, etc.
Re-secure your home. If the burglar entered through unlocked door or window, this could be as easy as ensuring they are all secured. For broken windows or damaged doors, construct strong yet temporary barriers using half-inch sheets of plywood with two inch screws a foot apart.
After a burglary, it's very rare for an intruder to return. More often, they will break into another house nearby within the next few weeks. So if you learn of a burglary in your neighborhood, be extra vigilant. Or if you experience a break in, alert your neighbors as soon as possible.
For more information, contact our business office at (925) 932-2211. Business hours are 9am to 5pm, Monday through Friday.
Denalect Alarm is proud to serve home and business security and alarm systems in Northern California: Antioch, Blackhawk, Brentwood, Concord, Danville, Dublin, El Cerrito, Hercules, Lafayette, Livermore, Martinez, Moraga, Oakley, Orinda, Pittsburg, Pleasant Hill, Pleasanton, San Ramon and Walnut Creek.