With all the hundreds of different home security systems available on the market, how can you choose the best one to give you piece of mind, works within your lifestyle and fits into your budget? From evaluating your needs to selecting a security provider, here are some tips on how to decide which alarm system is right for you.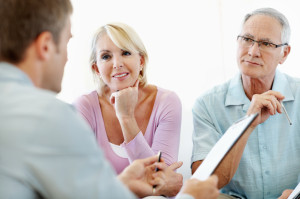 Evaluate your lifestyle. How do you enter and leave the house? Do you have children? If so, what ages? If you have pets are they large or are they small? Who else comes into the house? Do you want to be able to turn on the alarm when you're home? Answers to these questions will help you determine what features or enhancements you may need, including multiple keypads, mobile access, video surveillance, and small animal-immune motion sensors.
Then do the math. Determine your budget. Along with your lifestyle, this will help you decide what type of alarm, features and installation you need. A basic alarm system should include at least one keypad, an alarm panel, a loud siren and a combination of door and window sensors, depending on the layout of your house.
Ask for referrals or recommendations. Look for an established, reputable company that has enough employees to service and monitor your system. They should enjoy a solid relationship with local police, sell good-quality equipment such as Honeywell and Bosch, and offer at least a one-year warranty. You can also check with the Better Business Bureau to see if any complaints have been lodged against them.
Consult with a security provider. Get two or three quotes to evaluate. Was the salesman informative and helpful? You should never feel pressured to purchase a system. If you do, it's a good indication that the company isn't worthy of your business.
Professional versus DIY. You can decide to install the system yourself or have one professional installed. Some vendors will sell you the equipment directly to install yourself, which can save money on installation and monitoring fees. While a professionally installed system usually requires an installation fee and a two- or three-year monitoring contract, it could be more cost-effective to take advantage of the equipment discount that a security provider can offer. It's also important to note that a company that monitors your system will be more sensitive to your needs then a vender you purchased from in a one-time deal.
Denalect Alarm is proud to serve home and business security and alarm systems in Northern California: Antioch, Blackhawk, Concord, Danville, Dublin, El Cerrito, Hercules, Lafayette, Livermore, Martinez, Moraga, Oakley, Orinda, Pittsburg, Pleasant Hill, Pleasanton, San Ramon and Walnut Creek.